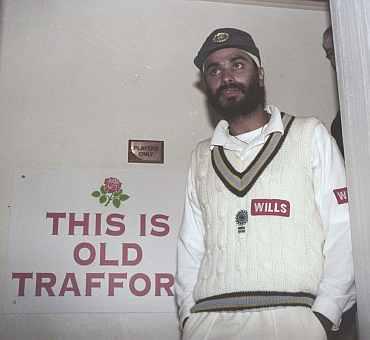 F

ormer India opener Navjot Singh Sidhu walked out of India's 1996 cricket tour of England because he thought his captain, Mohammed Azharuddin, was constantly abusing him, a new book by former Board of Control for Cricket in India secretary Jaywant Lele claims.
The tour is remembered for the infamous walk-out by opener Sidhu, citing differences with his captain, but the exact reasons have never been spelt out by the persons in the middle of the unsavoury drama or the Indian cricket board.
Lele's memoirs: 'Kapil forced Sachin change follow-on decision'
Lele revealed in his autobiography I was There - Memoirs of a Cricket Administrator that Sidhu could not stomach the constant bad mouthing of Azharuddin and abandoned the tour in a huff without being aware that the swear words used by the then skipper were commonplace in his home town Hyderabad and no disrespect was meant.
Finally, it was Mohinder Amarnath, a member of the panel that probed the matter, who managed to coax him to reveal the real reason for his tour walkout, says Lele in the book.
Lele has recalled that the Board had conducted an enquiry into the incident and nothing came out in the first meeting of the special committee in Mumbai, where Sidhu refused to reveal the reason.