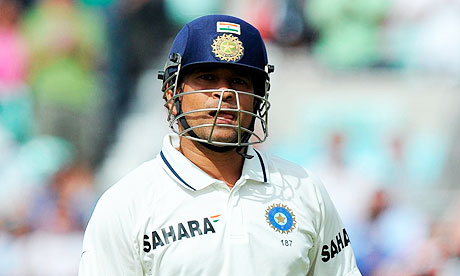 Sachin Tendulkar will imagine to his dying day that the ball was missing leg-stump and so will much of India, but the moment that India craved – Tendulkar's 100th international hundred – disappeared into dust with the most feted batsman of the age still nine runs short of the century that would have finished his troubled Test series on a personal high.
It would have been a brave decision in Mumbai, it was strong-willed enough in south London, and when the Australian umpire Rod Tucker raised his finger, to give Tim Bresnan an lbw decision, Tendulkar delayed long enough in disbelief for the match referee to have a second look. He has been a model professional and will probably be forgiven his moment of shock.
Hawk-Eye supported Tucker's decision, its predictive path suggesting that the ball would have clipped the top of leg-stump, and judging the decision close enough to be "umpire's call". Umpires' calls normally go in Tendulkar's favour. India have refused to use Hawk-Eye in this series because they lack faith in its accuracy, but Tucker would have been a relieved man when it supported his decision.
Tendulkar could hardly cavil because he had ridden his luck against England's Graeme Swann, who might have dismissed him three times. He was dropped twice, on 70 and 85, and survived a confident lbw appeal from the off-spinner when he tried to sweep him on 79, Hawk-Eye concluding that the ball would have clattered into leg-stump.
Tendulkar, 35 overnight, had battled into mid-afternoon to try to save the final Test for India and avoid a whitewash in the series. When he became the second India wicket to fall, in the 42nd over of the day, India were still 29 runs behind and the crowd, many of whom had come to pay homage to Tendulkar, imagined that a thrilling finish may be in store. In one Bresnan delivery the game, not the individual, had again become the thing.
A Tendulkar hundredth India hundred had been imagined during the first Test at Lord's, as a grand statement of their status as the No1 Test side in the world, a fitting adornment to the 2,000th Test. At The Oval it would have been merely a consolation at the fag end of a series in which they have been thoroughly outplayed.
It would have been a scene stealer after a series in which Rahul Dravid, not Tendulkar, has been India's stand-out batsman. In the end, it did not come to pass.
Ah well, no matter. It would have taken a committed Tendulkar supporter not to admit that the hundred would have come in rather hollow circumstances – so that cuts it down to about 500 million then.
Tendulkar had several moments of good fortune as he edged towards three figures on a slow Oval pitch that offered considerable, but sluggish, turn for Swann and little encouragement for England's seamers, who lost the discipline that had served them so nobly throughout the summer.
Ecstatic cheers greeted Tendulkar's first boundary, from the second ball of the day, when he steered Jimmy Anderson to third man. A routine single, again off Anderson, brought cheers for his fifty. He was picking off singles at will. The assumption grew that it was only a matter of time.
But the closer he got to his goal, the more the errors crept in, reminders of the frailties that have afflicted him throughout this series. He survived an lbw appeal from Stuart Broad on 54, rightly so, but it was enough to unnerve the crowd and Broad twice flashed deliveries past his outside edge.
On 70 he was dropped at short-leg by Alastair Cook, the ball flicking Cook's wrist and striking him on the chest, with the fielder unable to rescue the rebound. On 79, he swept and was hugely fortunate that Simon Taufel, Tucker's fellow Australian, ruled in his favour. Add Matt Prior's failure to hold a tough catch behind the stumps when Tendulkar was 85, and another perilous moment padding up to Swann in the same over, and it was little wonder that Swann scuffed the turf in frustration.
When England's captain, Andrew Strauss, turned to Kevin Pietersen, and Tendulkar pulled a long hop to reach the 90s, there were still five overs to the second new ball and it seemed that he had timed his innings perfectly. The crowd prepared to pay homage, Twitter braced itself for an avalanche of tweets and then Bresnan, seemingly immune to an impending moment of history, left Tendulkar – and India – still waiting for a moment that has failed to materialise all summer.